Do you still give your horse its roughage on the ground? You know that he should have roughage available all day long to keep his stomach and intestines healthy, but that is not possible now. Your horse finishes its meal in no time, is bored for the rest of the day and may even develop a stable deficiency. You also lose a lot of hay because it gets dirty in the sand or stable bedding. Hay Play Pillow is good for you and your horse. You save on hay and time. Your horse has more fun and eats healthier!
Vrooooommmm!!!
Free shipping
Free delivery of your Hay Play Pillow. 
What makes us so special?
Awareness of horse welfare is becoming increasingly important and manufacturers and companies must also pay more attention to it in their product development and business processes. At Horse Originals, horse welfare has been part of our mission and vision from the very beginning. The slowfeeders have always been developed with the idea of ​​giving horses safe and healthy access to hay. During the development of our products, the position during eating and the avoidance of stress are explicitly taken into account. Not only selling, but also passing on knowledge is an essential part of the entire customer journey and part of the quality we want to deliver.
Hay fed on the ground or in a net causes 10-15% hay loss per horse per day! The well thought-out systems and the well thought-out use of materials that Horse Originals uses for its slow feeders ensure that the hay remains in the bag and does not end up on the ground. This saves a lot of hay, so the purchase of a Horse Originals Slow Feeder pays for itself quickly. Loss is avoided. This advantage also makes the Hay Playbag_Small an ideal slow feeder for use in trailers or trucks. No more worrying about the horse getting stuck and unable to reach its hay, always knowing that the horse always has access to its hay.
The material of the Hay Play Slowfeeder is made in Europe. It meets high quality requirements and has a Food-Grade certification, making our material suitable for use in the food industry. Not the cheapest, but the best material. We make no compromises when it comes to quality. Anyone who sees the welfare of the horses as his task must also implement this in the material. The Hay Play Slowfeeders are unique and durable due to their long lifespan. Food grade certificates are also available and can be sent along.
Feeding hay can be a time consuming affair. Going to the stable three times a day takes a lot of time. Not to mention filling cumbersome systems such as hay nets, but it is still important that the horse has access to  its hay all day long. Horse Originals' well thought-out slowfeed systems can help with this. The slowfeeders are very easy to fill and have sufficient capacity for a daily ration of hay. Delaying feeding ensures that the horse has access to the hay throughout the day. This can reduce personnel costs, especially in big stables. With the Hay Play Slowfeeders you save costs and ensure a healthier and happier horse.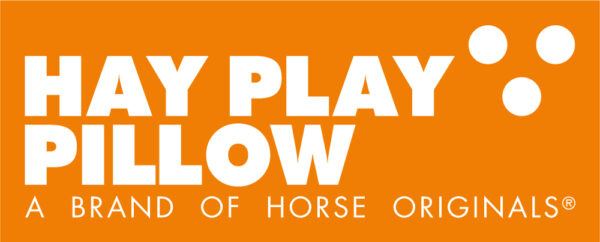 Wanna know more about Hay Play Pillow
More details about this product